Hanging Baskets
A group of attractive plants in a hanging basket will provide a lovely display.The best way to do this is to use a combination of foliage plants and flowers,the flowers being your main focus and the foliage being the accent.
When choosing foliage use a combination of silver leaved plants and trailing plants with hints of gold,greens and reds.If you prefer,plant a hanging basket of just foliage chosen for their colourful and contrasting leaves.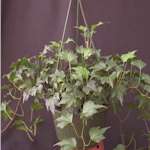 f you can!Helpful Hints
Buy plants young,it is cheaper this way and not to mention the experience you'll gain raising the plant yourself!

If you have potted plants grouped together,which is a great way to grow beautiful greenery,place a small dish of water in the middle for added air humidity.

Rotate your plants to maintain even and healthy all round growth.Rotate on a regular basis,do it daily
Be sure to wash all pots with warm water everytime you buy or reuse them,this will help prevent passing of pests and diseases.Don't be afraid to use just a drop of dishsoap!